So you're getting married soon, and it seems like there are so many decisions to make. It can be rather overwhelming because it feels like your to-do list just keeps getting longer. Luckily, together we can make one of those decisions easy for you; choose succulents for wedding favors. But why do these plants make such splendid gifts? We can count a multitude of ways. The best succulent wedding favors ideas are in this guide for your special day!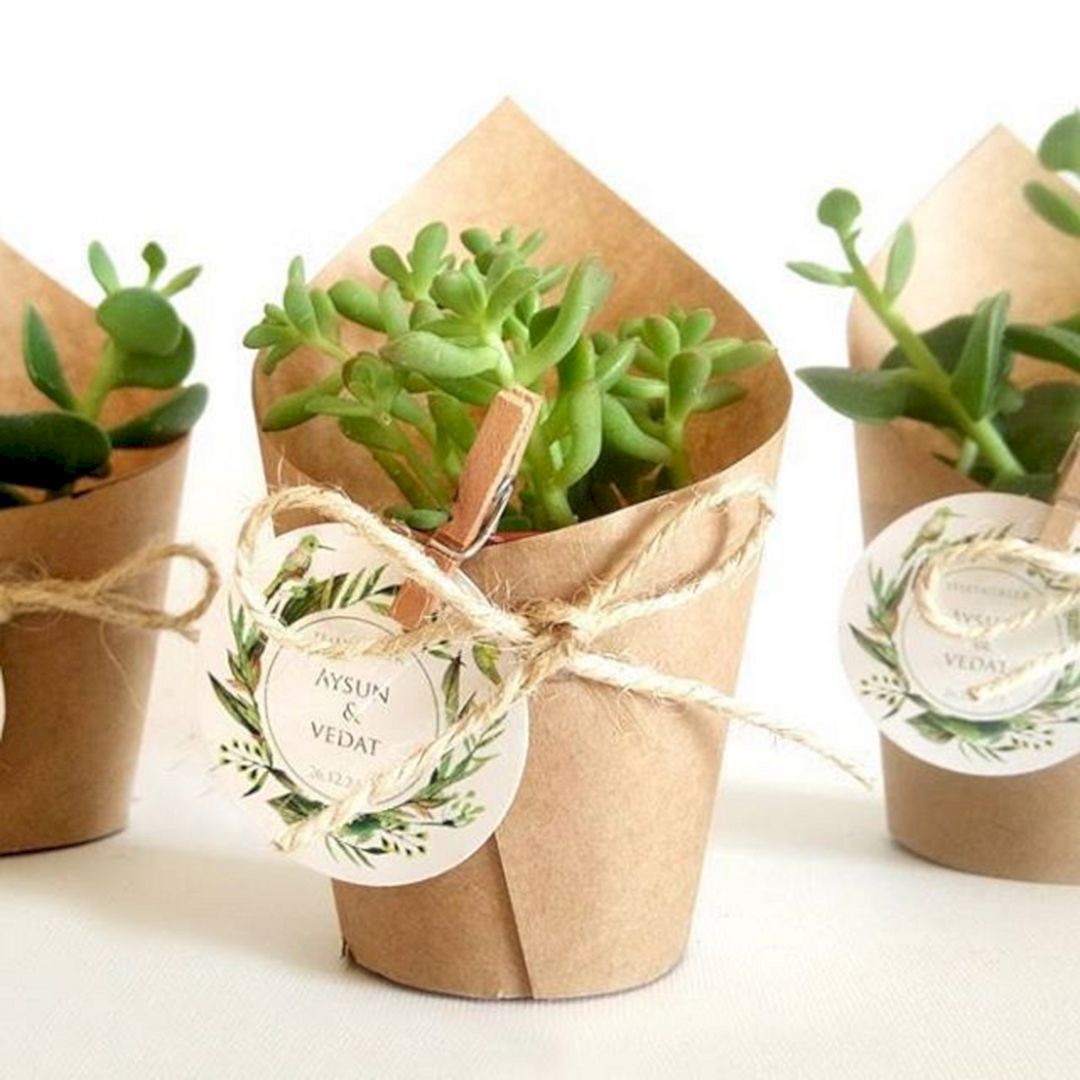 What types of succulents are out there?
Because of their gorgeous and durable nature, guests will enjoy receiving succulent wedding favors long after your wedding day. These hardy plants come in a wide array of rich colors and beautiful shapes. They will add a touch of liveliness to your guests' homes. There is a wide variety of types. From the jade plant resembling a miniature tree, to the playful pincushion cactus, to the signature flower-like blooms of the roseum. Although succulents most commonly come in shades of green, you will also encounter purple, orange, red, and pink varieties, just to name a few. Succulent wedding favors have exploded in popularity over the past couple of years, and their playful and vibrant nature serve as an inspiration. Not just for favors, but for everything when it comes to weddings, from the invitations to the cake to the bride's bouquet. Have a look at our Succulent Bridal Shower ideas here!
What makes succulents better than other favors?
Additionally, succulent wedding favors has an interactive element to it. You and your friends and family can continue caring for it and watching it grow, unlike favors such as bubbles or trinkets, which people are likely to toss or forget about immediately. Instead, your guests can enjoy succulent wedding favors for weeks, months, perhaps even years after you've tied the knot! As an added plus, giving a plant as a gift is a more environmentally-friendly practice. Not only are succulent wedding favors a fabulous gift, but they help Mother Earth too. Another idea is to use succulents as a centerpiece at your wedding table. It is a fresh touch to your decoration! Here is some ideas for Succulent Wedding Centerpieces.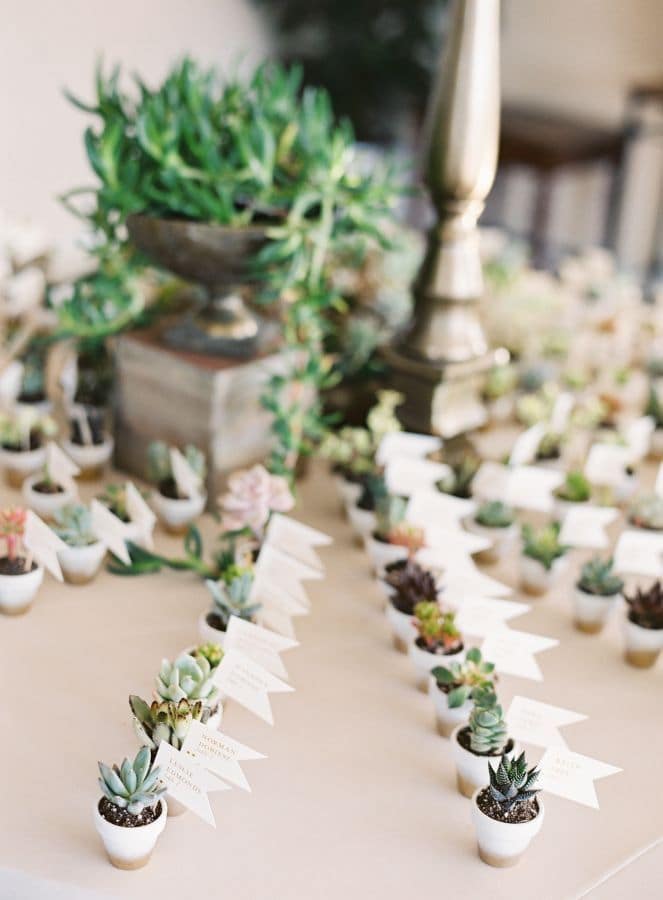 Are your succulents dying? Do you need urgent help to keep them alive? Don't worry! This ebook will solve the problems. I shared all my secrets related to how to water succulents with you.
How much will a succulent wedding favors cost me?
Another great benefit of succulents for wedding favors is that they won't break the bank. The cost of succulents for wedding favors would be in the plant, the pot or container, and some sort of packaging to give it to your guests in, all of which you can find or make for a relatively inexpensive amount. Although you can purchase succulent wedding favors online, shipping live plants can be a little worrisome, and you may want to visit your local garden nursery first. The potential perk of doing that is that you can see exactly what you're getting before you buy, and you also may be able to negotiate a better price on trays of these green beauties since you'd be buying them in bulk. Just to give you a ballpark figure, 2" succulents (which make the ideal size for a party favor!) cost around $2 to $4 each.
What sort of care do succulents need?
Get your guests off to a great start with easy care instructions. To give your guests the best opportunity to enjoy their new potted plant. It is recommended to include some care instructions inside the packaging when you distribute them. Although these plants are low maintenance, there are a few points that your recipient should know. Caring for succulents is fairly straightforward; they should be placed in an area with some direct sunlight, have their soil watered until slightly moist whenever it feels dry, and rotated every once in a while. That's it! Even your second cousin who's notorious for killing all her house plants will find that hard to mess up.
How can I make this succulent gift more personalized?
There's lots of room to go as simple or as fancy as you want! Since succulents are already charming enough without any adornments, you can add as little or as much pizzazz as you want to it. If you want to go minimalist, put them into white or classic earthy-brown terracotta pots. Home improvement and craft stores often sell these for pretty cheap. Or for a more country chic feel, you can put them into containers shaped like mini tin watering cans. Maybe add a sweet little ribbon or twine. For a more luxurious look, you can find glazed clay pots with gold or silver painted accents.
If you'd rather go the DIY route, you can even get your wedding party together for a fun night of wine and decorating. Stock up on some metallic permanent markers, embellishments, and glue and give your friends some space to get creative. The time will just fly by and as a bonus you'll make some wonderful memories along the way. With succulents for wedding favors, the possibilities are only limited by your imagination, and you can effortlessly match them to the colors and theme of your wedding.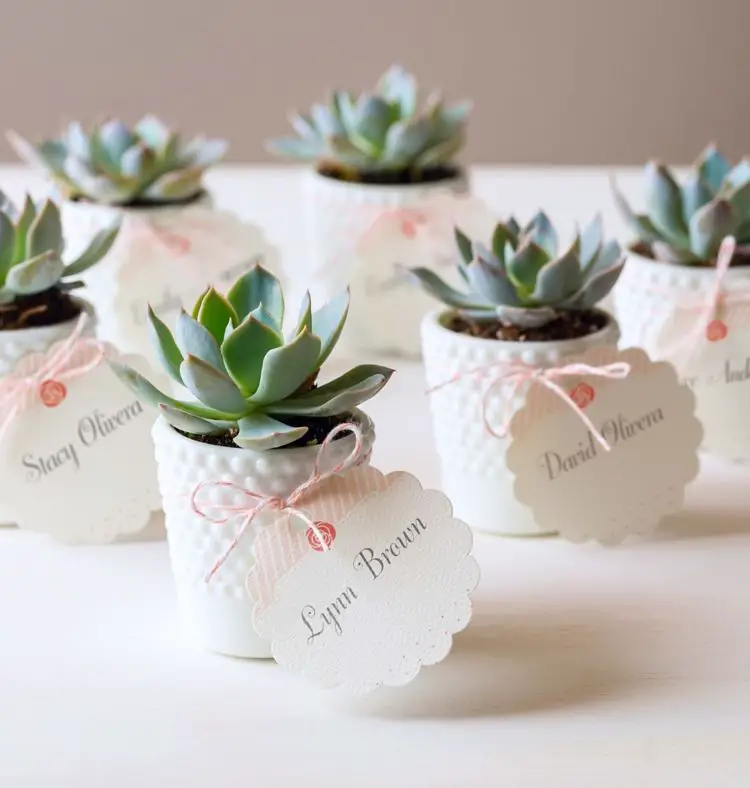 Transporting Succulent Wedding Favors
Make sure these gifts get home safely and have fun with the packaging. Although these succulent plants can handle being transported much better than the majority of other house plants, you will want to make sure that they are packaged carefully so that they make it home with their new owners unscathed. Learn how to carry succulents long distances in this guide. A small cardboard box with very little wiggle room will best protect the plants. For those of you who would like to be extra cautious, you can add crinkle paper for extra padding. Again, here's a great opportunity to show off your wedding theme and personalize it however you like. You can use rubber stamps on the boxes, have fun with decorative washi tape, or perhaps add a sticker personalized with you and your spouse's initials.
Other Considerations
Before you go, there are some other points you may need to think about when considering succulents for wedding favors. These small greens are pretty good at traveling and will be perfectly fine in a car or train ride, but you may want to think about if you have a lot of guests travelling to you by plane other methods where it may be difficult for them to carry a plant with them. If that's the case, you may want to consider having the favor delivered to their home directly (if they're domestic), or provide an alternative favor completely (especially for international guests, who could potentially run into custom issues at the airport). With this in mind, succulents for wedding favors would be ideal if the vast majority of your guests are local.