For those looking to break away from the traditional floral centerpieces seen at every wedding, branching out into succulents can give your wedding a unique and beautiful vibe. With a more natural and rustic appearance, succulents are becoming one of the hottest wedding trends as they are both eye-catching and functional. Lower in cost than those pricey bouquets, and more hardy, succulents won't wilt before the guests even arrive, and you can even take them home to keep as a long-lasting memory of your big day. But choosing wedding centerpiece succulents means understanding these plants and their variations, something this article will help you accomplish.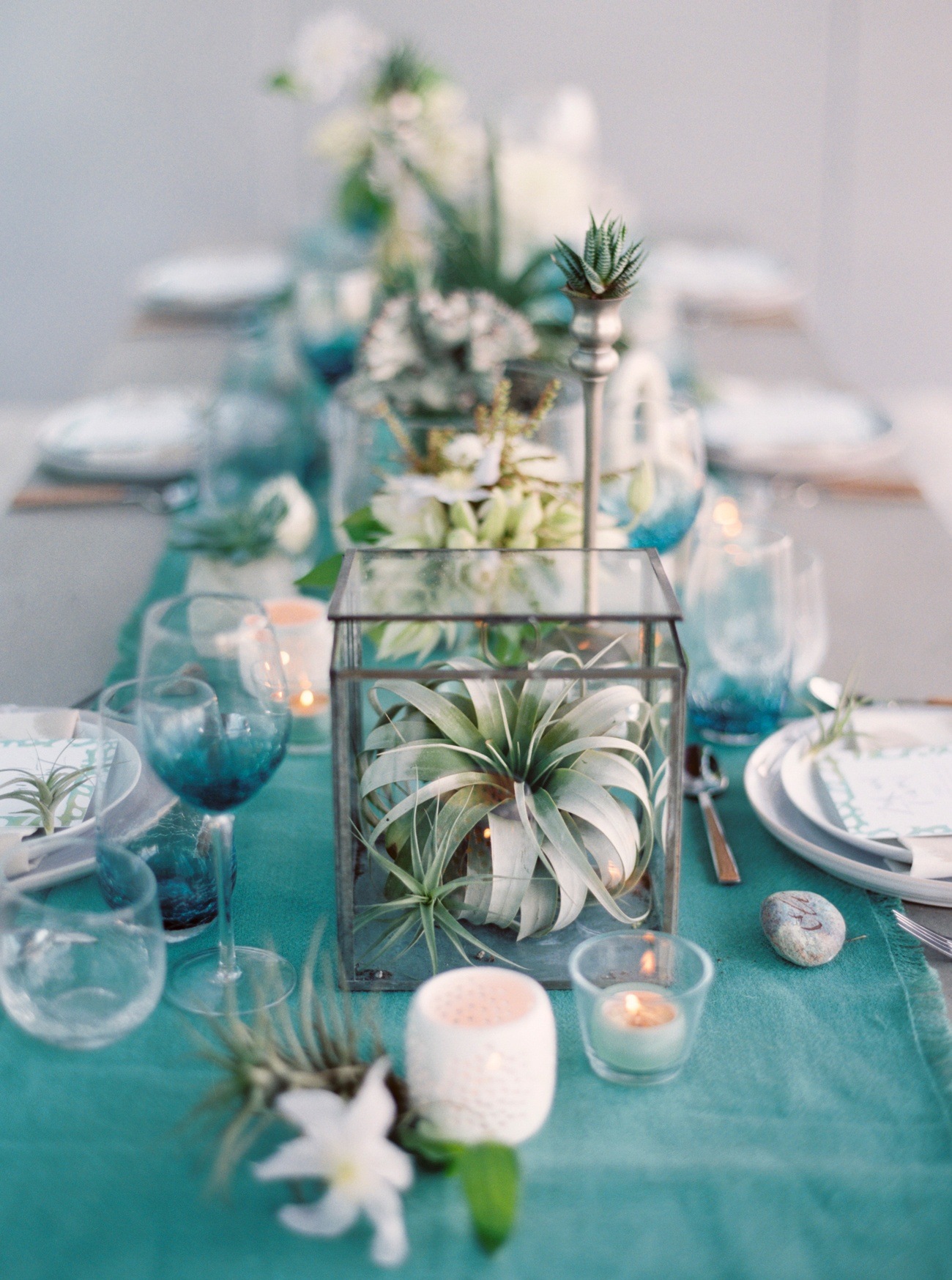 Are your succulents dying? Do you need urgent help to keep them alive? Don't worry! This ebook will solve the problems. I shared all my secrets related to how to water succulents with you.
What Are Wedding Centerpiece Succulents?
Succulents come in a wide range of types, from cacti to aloe vera, and choosing the right one for your wedding will depend on the look you are going for as well as your personal color scheme. But what differentiates a succulent from a flower?
Succulents are hardy plants that are thick and sturdy, and also able to retain water without requiring much rain. This is one of the reasons they are so ideal as a wedding centerpiece, since you never have to worry about them wilting or dying. Only requiring water once a week, you can grow and maintain a succulent for years without having to stress about its care. Known as the ideal starter plant, succulents come in all forms and can thrive indoors that have drier climates.
Not only are wedding centerpiece succulents great for longevity, but they also are more budget-friendly and can be stacked together in a way that is similar to a bouquet. Since succulents tend to be fairly small in size, you can pick and choose from a myriad of options and place 3-4 different varieties together in one pot. Extremely affordable, you will be less limited in what you can pick, allowing for your centerpieces to be as extravagant or as simple as you like.
Popular Varieties of Wedding Centerpiece Succulents
Succulents are available in numerous color options, depending on what you are seeking for your wedding. Traditionally, most are green, but many blossom and flower in colors such as pink, red, or purple. Seeking out flowering succulents can be a bit more complicated, as you need to catch them at the right time, but a good plant nursery will be able to help you with this task. Below is a breakdown of 5 of the most popular wedding centerpiece succulents to help get you started.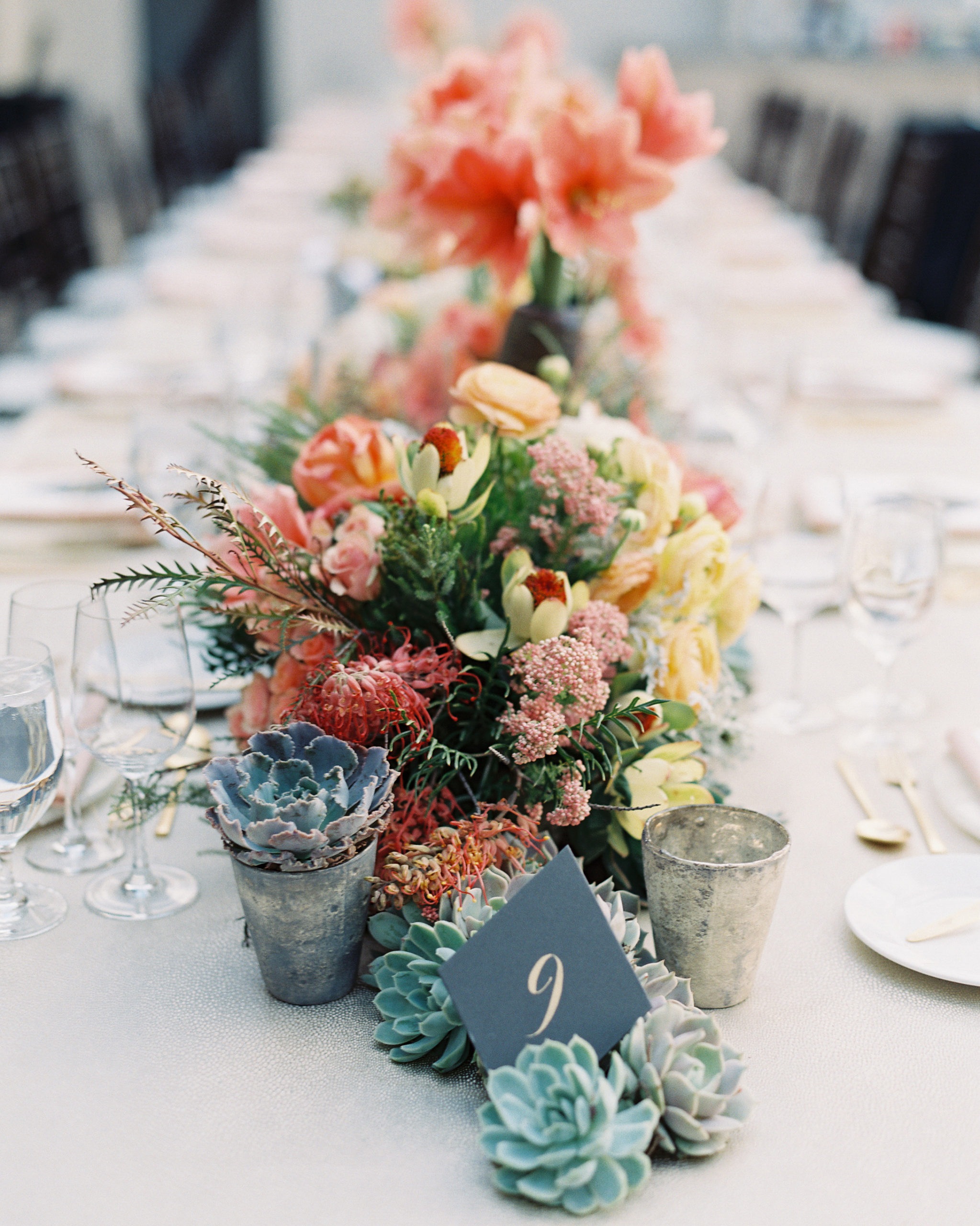 Drawing you into their magnificent center, these succulents are made up of many pieces that spiral in towards the center. Rosette in shape, they are more similar to the actual appearance of a flower, although, for the most part, they are only green in color. However, Hens-and-Chicks can blossom under the right circumstances, producing beautiful red flowers in the shape of a crown.
Burro's Tail
With most succulents appearing like a cacti-aloe vera hybrid, the Burro's Tail has become popular for its more unique and interesting shape. Like a vine made up of many thick leaves, this wedding centerpiece succulent drapes gorgeously over the side of the pot. Adding Burro's Tail into your arrangement can create a difference in look, texture, and shape that your guests won't stop staring at.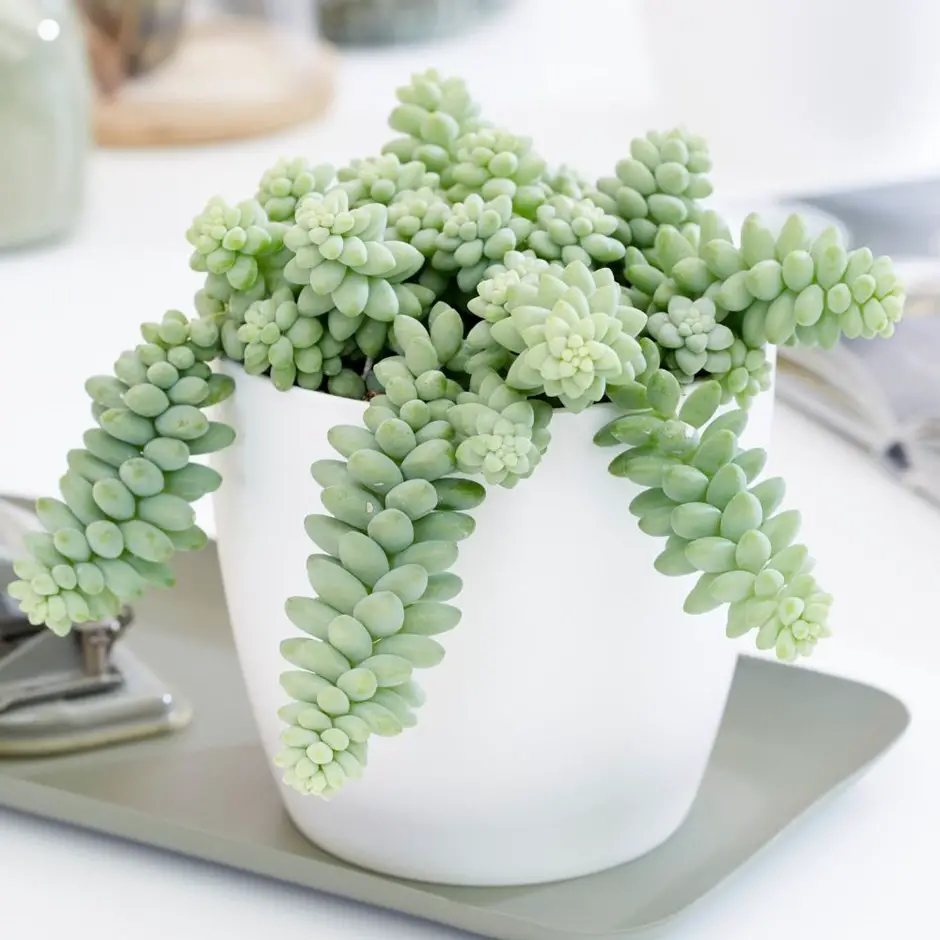 Panda Plant
Moving into wedding centerpiece succulents that are less standard and green, the Panda Plant offers up a velvety soft texture that looks and feels wonderful. Each elongated leaf is covered in soft fuzz and then topped with reddish-brown spots that give contrast. Guests can reach out and touch these hardy plants without injury to themselves or the plant, making them a fun and interactive wedding centerpiece succulent.
Pincushion Cactus
If you have specific wedding colors that you are trying to incorporate into your centerpieces, then the Pincushion Cactus may be perfect. The prickly exterior is covered in fine, white hairs and it produces vibrant, purple-pink flowers. These small blossoms add a very feminine and fun touch to your wedding, and will stand out in an otherwise green centerpiece.
Flaming Katy
While most wedding centerpiece succulents will be green with a few colored flowers, the Flaming Katy is made up completely of astonishing flowers. Each blossom is comprised of four petals, and they range in color from fire-engine red to gold, and even white. A standout option, choosing to add a Flaming Katy will ensure that perfect pop of color on your special day.
Where Can You Buy Wedding Centerpiece Succulents?
Choosing the right variety is only part of the process, and the next step will be finding somewhere to purchase these plants. For some, you may be lucky enough to live somewhere that has a succulent nursery, but for most, that likely isn't the case. Succulent nurseries are in-person locations where you can go and browse what plants they have for sale. Staff on-site will be able to help guide you through their selection, and prices at nurseries tend to be cheaper. Not only is this a more affordable way to go about it, but you will also be able to have a more personalized experience as you can create and pick your wedding centerpiece succulents all on your own. However, the downside to going to a nursery is that you are typically purchasing just the succulent, and will then need to source the pots yourself. From there, you will need to hand-create each arrangement which can be time- consuming.
The other option is to go online in order to find the perfect wedding centerpiece succulents. Multiple companies have created online stores where you can browse just the succulents themselves, or pick out pre- made bouquets and centerpieces. While you will be paying more for the convenience than if you were to do it yourself, each wedding centerpiece will be professionally made just for you. In addition, online stores tend to have a much wider selection, making them a better option if you are looking for something incredibly unique.
Choosing to have wedding centerpiece succulents can truly make your wedding stand out, and add a touch of class and fineness to each table. A more eco-friendly and affordable choice, succulents can also double as wedding favors, saving you more money and time. For those who are looking to break away from the traditional options, wedding centerpiece succulents are a beautiful and long-lasting choice to enhance your special day.