The chances are that by now, you already own several succulent plants that you care for and enjoy. Plants that you want to use to decorate your home or office. Well, then it is time to learn how to make a succulent Terrarium. As you continue to read through this post, I will take you through the essential steps needed to make one by yourself at home. Let's get started.
What is a Terrarium? Well, terrariums are glass containers that have become increasingly popular among succulent growers. One of the best features of a succulent Terrarium is that it looks great in your home and also makes for a great gift. Plus, it only costs you around $5USD to make, and it is fun to make.
Start with the Right Glass Container
Now selecting the best glass container can be tricky. While some might look appealing, they might not be the right one for your plant. Some containers collect water to such a degree that it cant evaporate away, leaving you with moldy soil. They are not appealing at all.
This Terrarium, though, has many things that will promote good health to your plant. First, it is shallow so that the water can evaporate quickly. Secondly, the holes in the front of the glass container allow for extra airflow that will help your plant to 'breath' and dry faster. That is one of the most crucial tips when growing succulents.
Tutorial
Here's what you should get so you can make your own:
Begin by placing a small amount of soil into the glass container. The soil we select is always a well-draining soil; it is essential so that your plant can dry out quicker. Then add some beautiful things such as small rocks, pine parks, and or more elements, depending on what appeals to you. When the soil drains well, it will help your plant to stay healthier for a longer time. That means less extra work for you.
Once you have placed all the decorative items and the soil in the glass container, then its time to add your succulent, I would advise you to select a plant that hangs out of the container, mainly because it looks beautiful. There is something special about seeing a container with hanging wines of the succulent coming out. Especially if placed in a more delightful area of your home. 
Next, you are going to need a bit of bakers twine so that you can hang up your succulent to the wall. When you see it on your wall, I am confident that you will feel a sense of achievement. Of course, you will need to play around with how the plant looks and how you hang it up, but eventually, you will get there.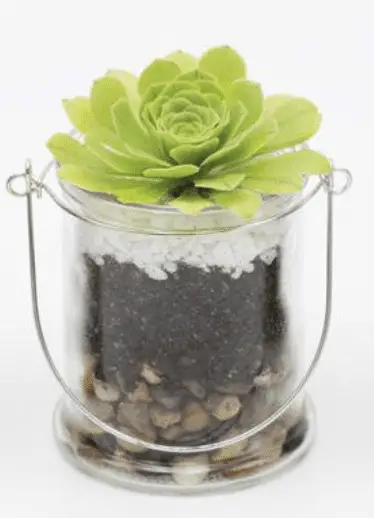 Don't try to add too many things inside the glass container. It will look crowded and not as appealing as it could have been. I would recommend spraying your Succulent Terrarium to maintain wetness in the soil. When you have Terrariums like this, you need to be extra careful not to over-water your succulent. The glass will act as a greenhouse, keeping everything trapped inside the glass. It is going to take a few more days for the plant to dry out compared to normal ultimately.
So, what are you waiting for? Find a container that you like, along with some lovely extras to put in with it. Take your time and pick the best succulent to place inside. I would recommend a plant that appeals to you so that you always feel happy when you see it on your wall. There you have it; now you know how to make a succulent Terrarium!