Many people don't believe blue succulents can be real. Succulents are not only in green colors. They come in many shades like blue, pink, even purple. Also, have a look at the article about 11 Pink Succulents. There are many effects such as sun, water, temperature for a succulent to have different colors. In this article, I will introduce 9 different blue succulents for you. This list will make you think to own one of them. If you don't have any colorful succulents yet, blue succulents are the best to start with. I am sure you will enjoy its beauty whether you have it as an indoor or outdoor plant.
1. Blue Chalksticks 'Senecio serpens'
Senecio serpens is a small size succulent that can bring a relaxing ambiance to your home with its colors. It has tubular stems, green-blue leaves. It can grow up to eight inches tall. When it blooms in summer, you can enjoy its white flowers. Blue Chalksticks love the bright sun so if it is an indoor plant, it is better to keep it on a windowsill. As all other succulent types, well-draining soil will prepare a healthy environment to grow your succulent.
2. Agave attenuata 'Blue Glow'
Agave Attenuata is a blue succulent type that can be seen along walkways and outdoor gardens. It has green-blue leaves with red edges that occurs with the effect of the sunlight. It can grow up to 2 feet tall. When it blooms, you can enjoy yellow flowers.
3. Sedum reflexum 'Blue Spruce '
The Sedum reflexum is another blue-green succulent that sprouts yellow flowers when it blooms. It is mostly an outdoor plant that found along walkways, or outdoor gardens in planters. With the yellow flowers, it offers you a colorful image. This succulent type is a small-sized one that does not grow tall. However, it grows very fast and spreads around. You can cover the empty areas of your garden with Blue Spruce.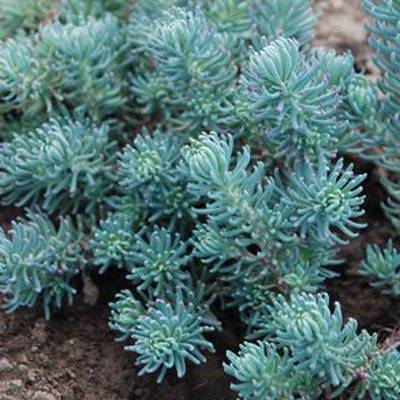 4. Echeveria 'Blue Bird'
Blue Bird is a small size, rosette-shaped succulent with blue leaves. When it blooms in early summer, pink-orange flowers show off. It is easy to care as long as you are careful about watering it properly. Mealybugs might be a problem if it is not taken care of properly.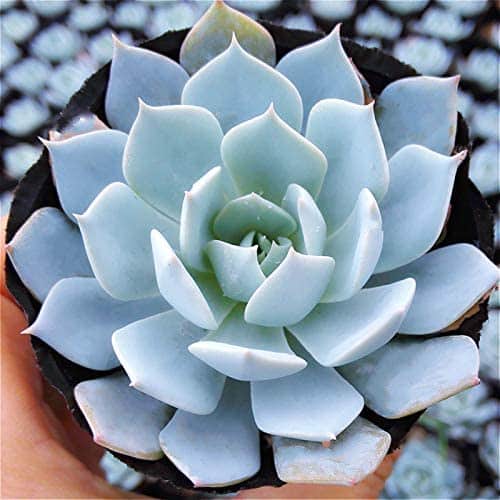 5. Agave potatorum 'Butterfly Agave'
Butterfly agave is not a difficult plant to grow but it grows slowly. In the end, it can grow up to 2 feet (60 cm). The grey-blue leaves have brown spines on the edges. Spines can hurt when handling the succulent. When it blooms, the yellow flowers grow tall. It grows best in full sun.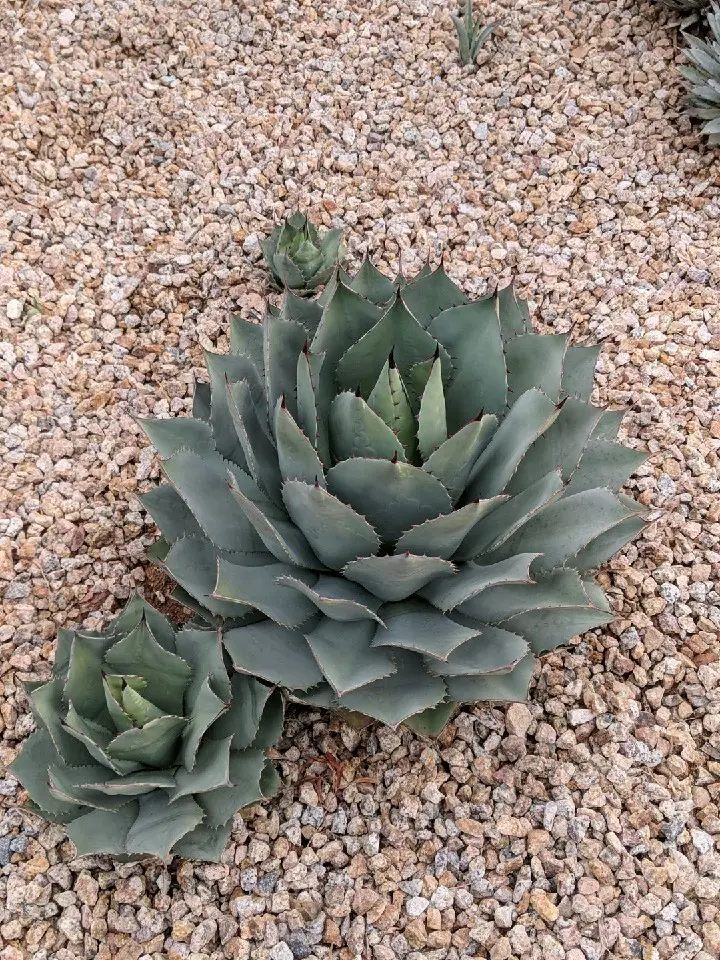 6. Echeveria 'Blue Prince'
Blue Prince is a rosette-shaped blue succulent type with green-blue leaves. The color of the leave edges can slightly change to red in full sun. It is easy to propagate and care, so it is an excellent choice as a beginner. This Echeveria loves the bright sun so placing the succulent in a windowsill would be the best location for indoor growth. When it blooms in spring, enjoy the beauty of reddish-orange flowers. Repotting is better in warm seasons.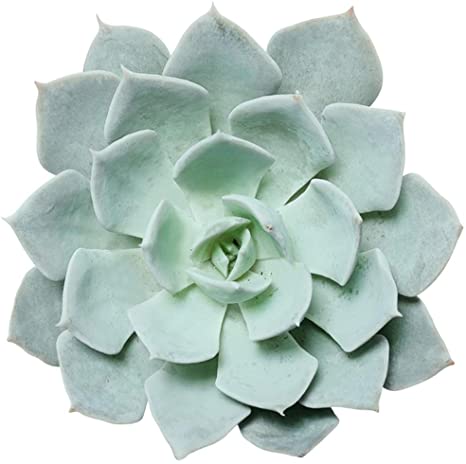 7. Agave tequilana 'Blue Agave'
Blue Agave is easy to grow succulent even if it grows slowly. It is a large succulent that can grow up to 5 feet (1.5 m) tall. Blue Agave has gray-blue leaves with brown spines on the edges. When handling, be careful about the spines. When it blooms, you can see yellow flowers. It has low water needs so avoid overwatering at all costs. Agave tequilana is well known as the main ingredient of tequila.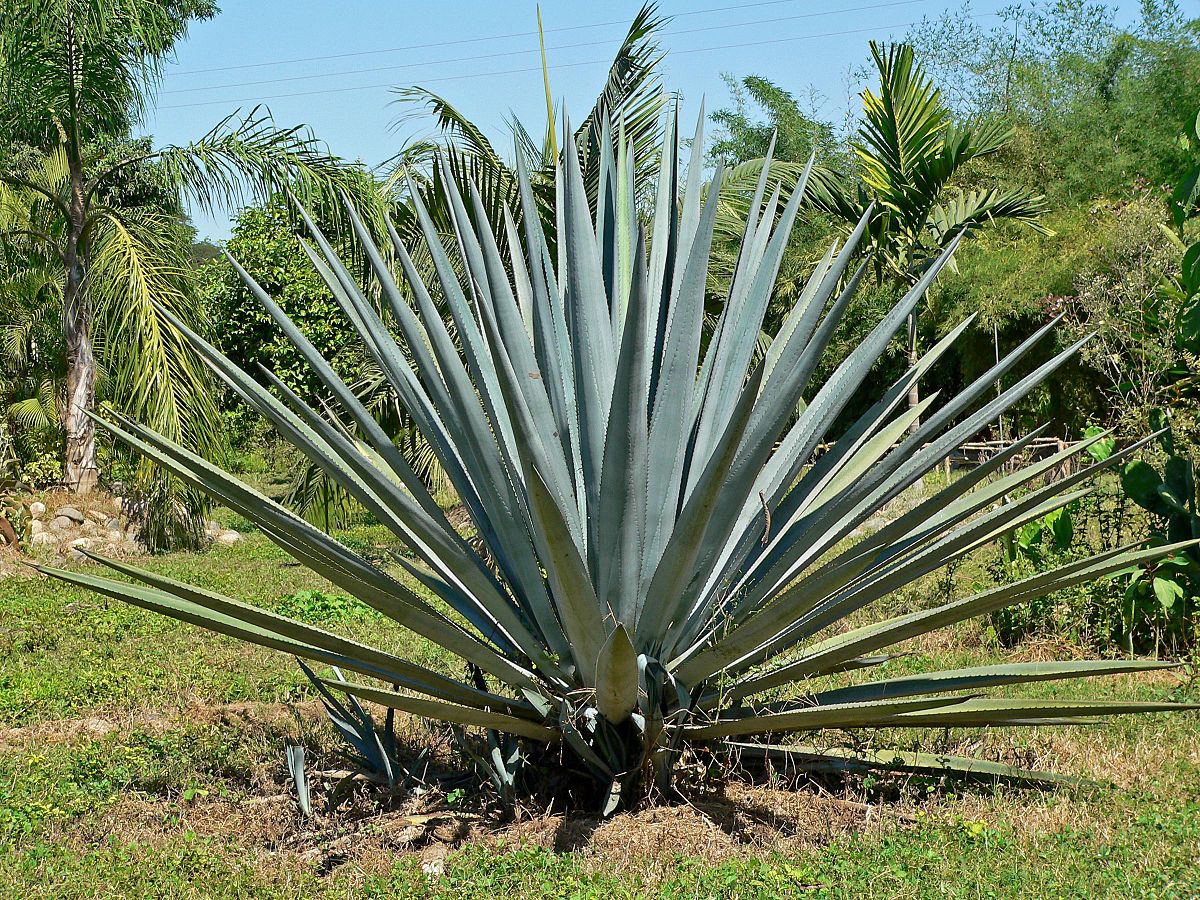 8. Sedeveria 'Blue Burrito'
Sedeveria 'Blue Burrito' has blue leaves with pink edges. This easily planted blue succulent has a rosette pattern. To grow Sedeveria healthy, it is best to use well-draining soil mixture and to not overwater. It is a pet-friendly succulent so your cat/dog will live happily wound this blue beauty.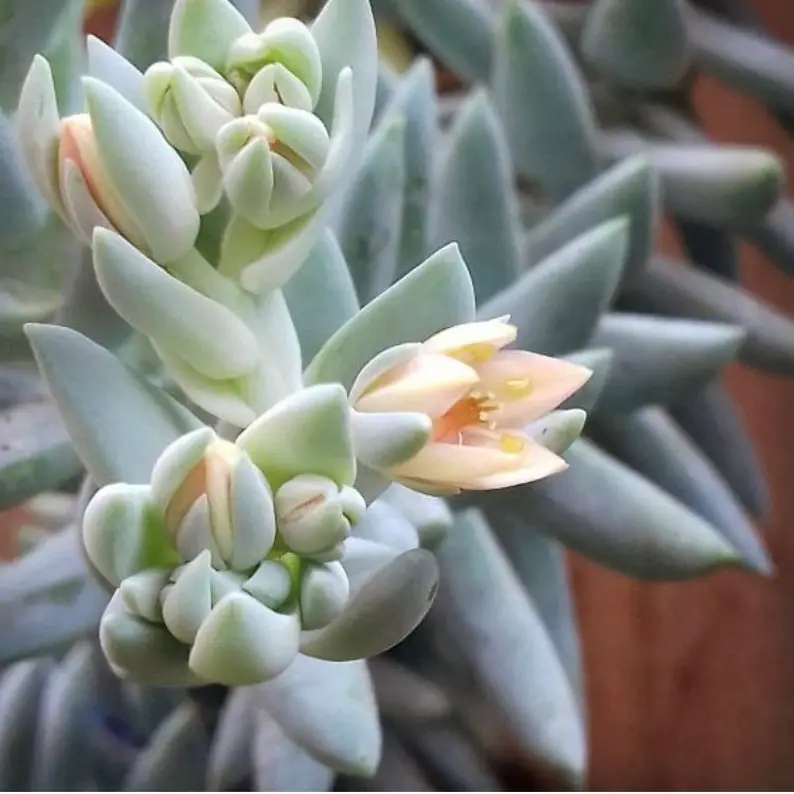 9. Pilosocereus azureus 'Blue Torch Cactus'
What is better than a cactus? A blue cactus! You can be surprised by hearing about blue cactus but it is true. Mother nature is the best after all. Its blue stems are covered with yellow spines. Spines can hurt so be careful when handling this plant.
The Blue Torch Cactus can frow very tall and very quickly. Due to its fast growth, it should be repotted frequently. On the other hand, it can stay windowsill size up to several years. It is easy to take care of with low maintenance. The water requirement of this blue succulent is very low.